Synopsis
A journey through the past and future myths of the dormant Livonian language.
World War II, mass deportations to Siberia and marginalisation during the Russian occupation caused the extinction of the language of the indigenous people of Livonia. Narrated in Livonian and inspired by a folk song and Finnic mythology, the story seeks hope in the perishing time and memories forgotten.
Contact us to request a preview link.
2022 - 19 min - Colour - DCP - 2x4K - 32:9, 16:9 - 5.1, Stereo
Director: Len Murusalu
Cinematography: Ants Tammik, Tauno Novek, Jaan Kronberg, Egert Kamenik
Animation & effects: Martinus Klemet
Sound design: Mike Wyeld
Music: Len Murusalu
Producers: Tauno Novek, Len Murusalu
Language consultants: Tuuli Tuisk, Valts Ernštreits
Language: Livonian with English subtitles
Alternative titles: Pierrõ Betelgeuse, Peale Betelgeuset
Financed by: Estonian Film Institute, Estonian Cultural Endowment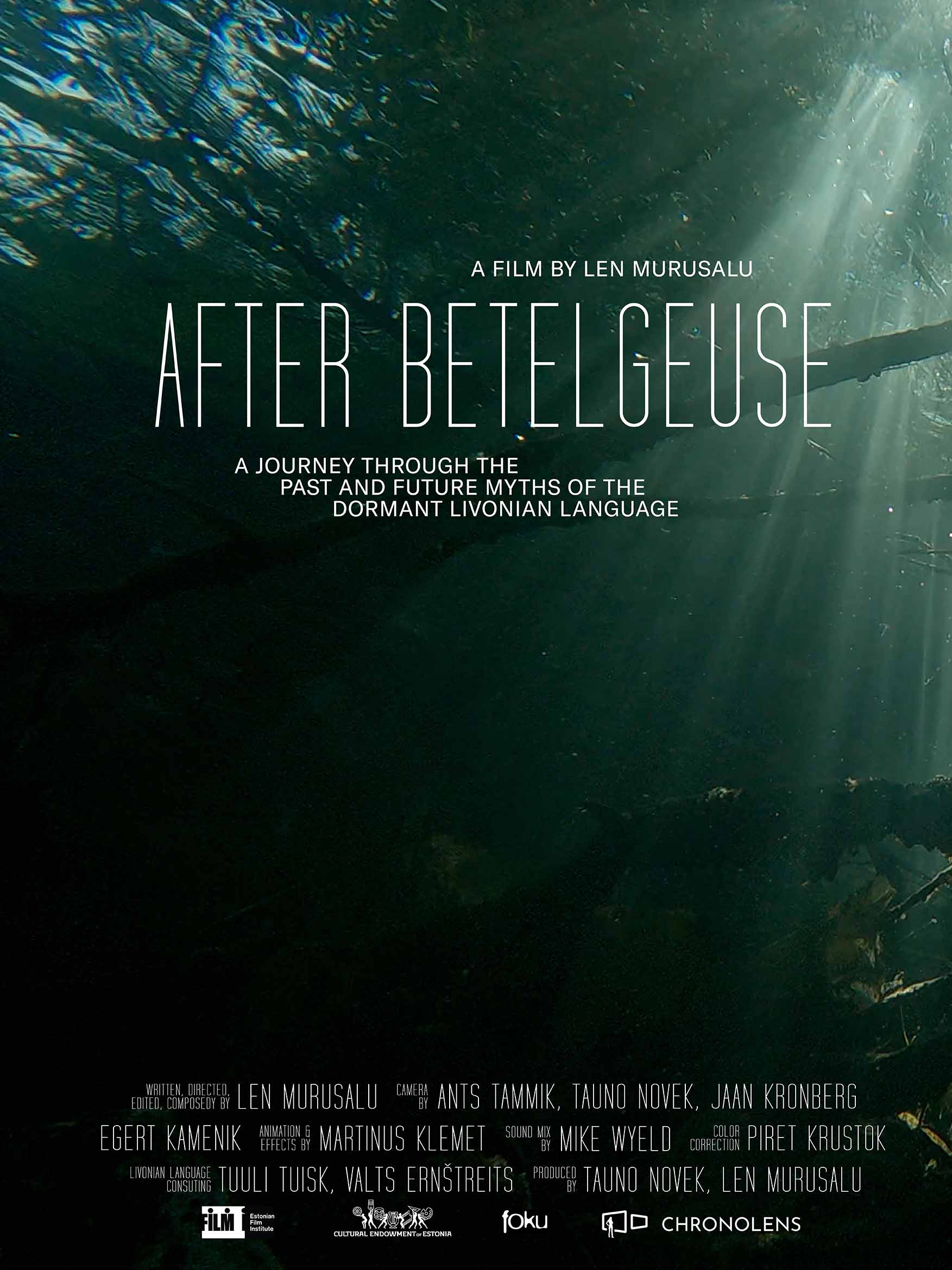 Versions
The preferred format is a 4K projection or a large 16:9 monitor, with subtitles centered under the split-screen. Ideally, the work would be connected to our custom-made LED-light set which is controlled by Arduino and synchronized with the video, so that the space gets brighter at the end of the film. Alternatively, the work can be shown on two side-by-side monitors, with subtitles on one of the screens.
Director
Len Murusalu
Len Murusalu is a visual artist, filmmaker, artists' film curator and researcher. Her interdisciplinary work explores questions around the interpretation of history, memory, language, and time perception – integral parts forming a sense of belonging – using moving image, video performance, photography, sound, text, installation and painting.
She has a Master's degree from the Royal College of Art in Contemporary Art Practice: Moving Image and is a 2020/2021 Oberhausen Seminar Fellow of the Internationale Kurzfilmtage Oberhausen.
In addition to exhibiting her work internationally since 2005, Len has contributed to several documentaries as a screenwriter. In 2018 she established a production company ChronoLens dedicated to artists' film and moving image, both for gallery and cinema context. Murusalu is the founder of AmiLab, an NGO dedicated to researching and developing artists' moving image and expanded cinema.